Theresa Dwyer
Piano and Music Theory
Teacher in Cape Town
See my work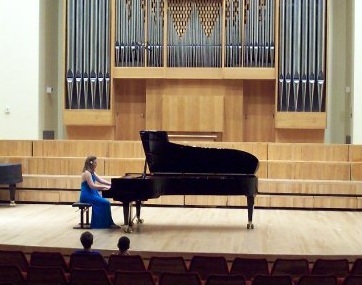 Theresa Dwyer is a pianist and piano teacher in Cape Town, South Africa, with experience teaching Western classical piano and music theory to all ages and levels, as well as group music classes to kindergarten children.
Theresa obtained her BMus degree at The South African College of Music, UCT, majoring in Piano Performance under Prof Francois du Toit and Mr Jose Dias and Music Theory under Prof Hendrik Hofmeyr. She has also completed courses in Piano Teaching Method and Chamber Music.
Theresa is enthusiastic, positive and passionate about music and education (and especially music education). She offers private, one-on-one piano lessons, and group or individual general music and music theory classes. All ages and levels from beginner up are accepted. Lessons take place in Rondebosch and can be arranged weekly or twice weekly, for a duration of 30, 45 or 60 minutes, depending on age, level and need.
A 20-30 assessment lesson is available for all potential private students free-of-charge. This provides an opportunity to consider the best lesson options for the individual student, and also for the student to decide whether s/he wishes to take regular lessons. This session does not bind the student to any obligation to continue with lessons.
For information and to arrange initial assessment, please contact Theresa.
My main goal as a music teacher is to make lessons a fulfilling and enjoyable experience for all. I believe that every child (and adult) has the ability and the right to learn music, and that music is an essential part of education. There are more and more scientific studies being done which show the benefits of music lessons to the brain. Music lessons also enhance such skills as creativity, self-discipline, coordination, problem solving and emotional intelligence.
I love teaching. I wish to inspire others as I have been inspired by my own music teachers. I believe that education should be a two-way process, with input from both teacher and student. The private, one-on-one aspect of music lessons gives me the opportunity of getting to know each student personally, so that together we can follow what for each is a unique and individual journey into the art of music making.
I am fascinated by the educational practices of others and have read extensively on many pedagogues' philosophies and methods of education. I draw on many of these and my own teachers' methods, as well as my previous experience as a teacher, when planning and executing lessons for individual students.
As a piano teacher, I shy away from teaching just "piano" but rather strive to teach music as a whole. I therefore incorporate into lessons, over and above of the usual subjects of piano technique, sight-reading and aural skills, aspects such as theory and history of music, philosophy and psychology of music, music appreciation and the art of practising. Every student has his/her own individual interest in different aspects of music, and I endeavour to provide a stimulating and exciting grounding in any of these that prove attractive.
I accept students of any age. One is never too young or too old to benefit from a music education; whether one wishes to take music "seriously" and become a musician, or to do music "for fun" as an extra mural activity, to pick up those music lessons that you haven't had since childhood, or to start completely from the beginning. Every student has their own reason for wishing to learn the art of music, and as a teacher, my purpose is to provide the foundation and the opportunity for that student to start the journey.
At what age can a child start music lessons?
At any age. The renown pedagogue, Shi'nichi Suzuki, taught what he coined the 'mother tongue' approach. He believed that children should learn music as they learn to speak their native language. In order to do this, one must start as young as possible. However, just as it is possible for a person to learn a language later in life, it is also possible to learn music from any age.

---

Am I too old to start piano lessons?
No! Anyone can benefit from the joys of music lessons. I teach age-appropriate lessons that will help you determine best what you want to get out of learning the art.

---

Do I have to have a piano at home?
It is advisable that you have regular access to a piano in order to practise, either at your home, school or work, or at a friend's house. Regular practise is an integral part of learning music, and you will not get very far without it.

---

How many hours a day do I need to practise?
The amount of time you spend practising is very much determined by your individual needs and goals, and will be different for every person. I advise daily practise for everyone wishing to advance consistently, but this can be anything from 5 minutes a day to 5 hours a day, depending on the individual. Always remember that it is not about the hours you put in, but the quality of the practise session that is important (eg. How focused you are, how clear your goals are, and whether you are having fun). This is something we will discuss in lessons.

---

How long are lessons?
Lessons are 30, 45 or 60 minutes depending on your age, level, goals and time constraints. The length of the lesson is something we will discuss and decide in your initial assessment lesson.

---

And how often?
Again, this is something we will decide once we have established your needs. Regular lessons of once or twice a week are the norm.

---

What about exams?
We have three external music examination boards in this country, UNISA, Trinity Guildhall, and ABRSM. Any of these can be taken should a student wish. Although I believe exams can be useful for a music education, they are not always essential, and can sometimes be destructive. Again, it is entirely dependent on your individual needs, as to whether or not you decide to take exams. This is something we will discuss in the assessment lesson.

---

What about music theory?
I believe studying music theory is essential to helping with the understanding of music. I therefore incorporate basic music theory into practical piano lessons where appropriate. However, I don't wish practical lessons to become too theoretical. For those interested in exploring theory further, or needing help with passing a music theory exam, I offer private or group music theory lessons and tutorials.

---

You say everyone has the ability to learn music. Then why do you need an assessment lesson?
The assessment lesson is there to assess your level and goals, not to decide whether you have ability or not. I use the assessment lesson to work out long and short term plans, to discuss what your aim in taking music lessons is, and to get to know you personally. The lesson is also there to help you decide whether or not you want me to be your teacher.

---

Do you believe in talent?
There is no doubt that there are some people who have more of a natural ear or a natural technique for music than others. However, that does not mean that it is not possible for anyone to learn music. In my experience, enthusiasm always trumps talent in the long run. Those who are enthusiastic and persistent have the advantage over those who are naturally talented in the end, for they have had to work hard and think more deeply in order to progress, and therefore have a more thorough understanding of the art. Always remember that everyone is different. You should be pursuing music for the sake of music, not in order to compare yourself to others.

---

Do you teach any other genre of music apart from Western classical?
No. I have been trained almost exclusively in Western classical music. It is the genre that touches me the most, and that I feel I understand the best. Although I appreciate other genres of music, as I appreciate other mediums of art, I am not qualified or knowledgeable enough about these to teach them. Nor do I wish to be, as there is still so much to explore in my own genre.

---

What about African music? Is that not important, seeing as we live in Africa?
Yes, African music is extremely important. As are Jazz, fine art, wood carving, and dance. One might just as well ask me to teach in all of those mediums. I believe that any art can touch any person, regardless of culture. Those with an interest in African music should certainly study it further, but with an African music expert. I love western classical music in a way that I will never love any other medium of art, and I wish to inspire students to feel that love as I do.

---

People say classical music is dying out. Is it not too old fashioned an idea to take classical piano lessons?
No one can answer this question as well as the English conductor Benjamin Zander. Rather than try and explain it myself, I suggest you watch this 20 minute talk he did for TED in 2008. He explains classical music in a way that will make you see it in a new light, and if you have any interest in the subject, I guarantee you will not have wasted your time by watching it. www.ted.com/talks/benjamin_zander_on_music_and_passion?language=en.

---

What is my role as a parent in my child's music education?
For the younger students, I encourage parental involvement. This can be helpful, though it is not essential, for the very young child. If as a parent you have never played an instrument yourself, why not take the opportunity of learning alongside your child, and explore the joy of music making together? Alternatively, if one has the time, sitting in on lessons in a discreet and non-invasive way, can be of huge benefit to a child's morale and enthusiasm.

---

You mentioned the benefits of music to the brain?
Science is showing more and more the benefits of regular music lessons to the brain. Here are some links to a few of the many articles available on the subject.
news.nationalgeographic.com/news/2014/01/140103-music-lessons-brain-aging-cognitive-neuroscience/
washingtonpost.com/news/speaking-of-science/wp/2015/01/07/music-lessons-spur-emotional-and-behavioral-growth-in-children-new-study-says
http://psychcentral.com/news/2014/12/26/musical-training-may-improve-attention-span-anxiety-levels-in-children/79079.html
E-mail: theresa@dwyer.co.za
Phone: 076 727 7225